When I started miniatures, I bought a dollhouse. Eventually I bought 4 one-inch scale dollhouses and ran out of room for them. I've sold most of my one inch scale dollhouses, but hung on to a few one inch scale projects I just couldn't let go of. Roomboxes seemed to be the answer for these projects (yet to be completed), but finding the perfect roombox proved to be a challenge.
I've also made mistakes when buying roomboxes. The ones to avoid are ones without a plexiglass cover. You need the plexiglass to prevent dust accumulation. You still need to dust the outside of the box, but at least the contents are virtually dust free.
Another consideration is the
size
and
materials
used for construction of the roombox.
Figure out your needs (what will go in there) and measure, measure, measure. For one inch scale, you need at least 9" high walls to accommodate for curtains, moldings, ceiling lighting mixtures etc.
Some boxes come with glass, others with plexiglass or acrylic. Both types can develop cracks, but plexiglass is lighter and less fragile than glass, but can sometimes be more expensive than glass.
The thickness of the plywood or MDF used will determine how heavy the box is. The typical roombox is made from 3/8" thick MDF or plywood---sturdy, but heavy if you have a big box. This can be an issue when moving around the item (a consideration for me since I'm only 5' tall and underdeveloped biceps). On the other hand, you don't want something really thin and flimsy and can't handle the contents of your project.
Plywood takes up paint easily. MDF takes many coats of paint for coverage, but is easier to wallpaper because it has very smooth surface.
Here is a sampling of roomboxes:
My favorite is from Real Good Toys. Hobby Builders Supply (http://www.miniatures.com/) has the best prices especially if you sign up for their newsletter for special sales notices. The boxes are made of MDF, but come pre-painted. You can put them together in 5 minutes. There is a plexiglass cover. They appear sturdy, but are lightweight. Only downside is limitation in sizes, and if you want to add lights, you have to drill a hole or route to hide the wiring.
Quick Build Mini Display Boxes
:
Mini
(#9040): 5 3/4"W x 6 5/8"D x 5 7/8"H
Small (#9041)
: 8 3/4"W x 6 5/8"D x 9 3/8"H
Medium (#9042)
: 10 3/4"W x 6 5/8"D x 9 3/8"H
Large (#9043)
: 15 1/4"W x 10 3/8"D x 10"H
These are Real Good Toys roomboxes with fancy laser cut trims, made of 1/4" MDF, comes unfinished, all are 15 1/4"W x 10 1/2"D x 10 9/16"H.
Victorian
Colonial
Americana
These roomboxes from
Scale Creations
come with grooves to hide electrical wiring. Prices include free shipping to USA. Made from fine plywood.
http://ccwmfg.tripod.com/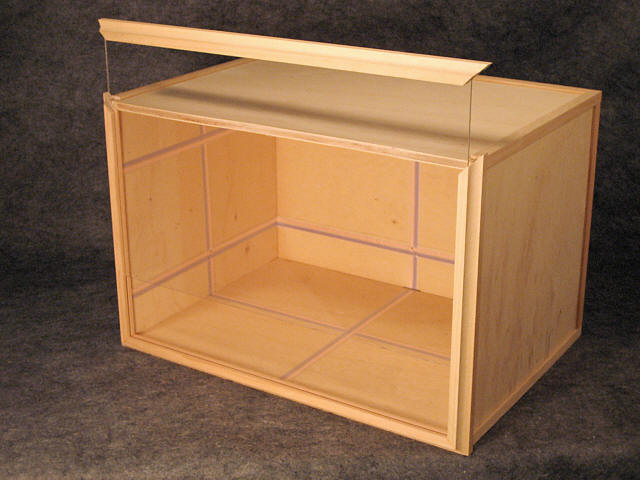 You can get a roombox with a drawer base beneath and pre-cut outs for windows from
Steve Harvey Miniatures
(
http://www.steveharveyminiatures.com/?p=design1
)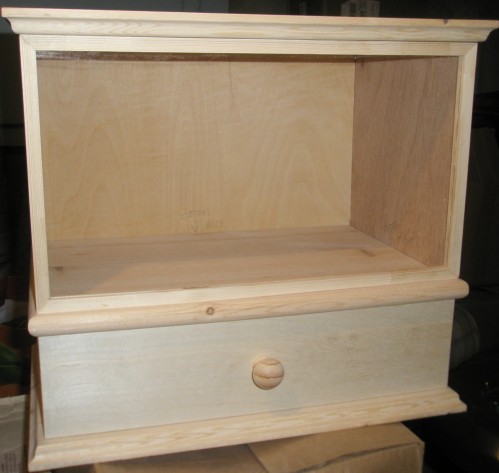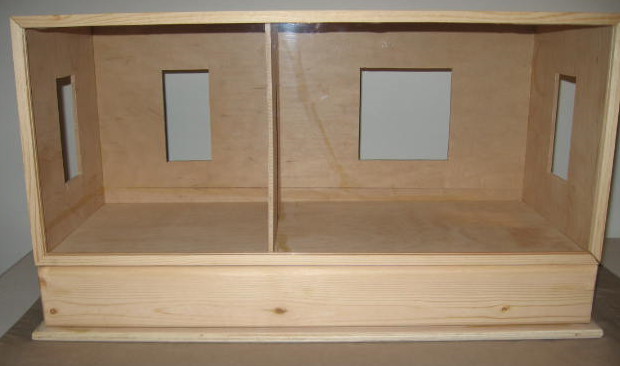 You can get a custom roombox to your taste:
http://creativeroomboxes.com/shop/
I love these (available through Lynlott Miniatures
http://www.dollhousejunction.com/product/2877.aspx
), but they are in Pennsylvania and shipping is at least $25: